Jump to . . .
History of Bohemia and Wisconsin
Links to Czech Republic, Bohemia, and Wisconsin
Bernard Yahna was born in Bohemia, now Czech Republic, in 1858. He immigrated as a boy with his family to Watertown, Wisconsin in 1867. When in his early 20's he decided to go west, coming to Fisher's Landing (Fisher, Minnesota) where he worked on a farm one Summer and a brewery that Winter. In the Spring he followed the railroad west to Arvilla, in Dakota Territory, about 1880. At first he worked as a hired man on the large Hersey farm near Arvilla, "taking care of horses," according to James B. McCabe. Then he claimed a homestead in Logan Township, "west of school almost 3 miles" (3 miles west of Fergus, which is now Logan Center) in 1882 or so. He "batched" there in a sod hut until Spring of 1889, when his sister Annie came out to clean house for him. After Annie's marriage (to Thomas Mooney) in 1891, Barney made a trip back to Watertown to marry Kathryn Grun in 1892. They lived the rest of their lives in North Dakota, turning the homestead into a prosperous farm and raising a family.
Married March 1, 1892, Watertown WI.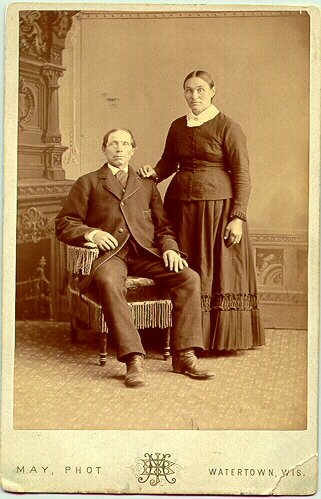 Bernard's parents, Ignatz and Theresia Jahna about 1895.
Bernard's sisters: Mary, Theresa, Ida, Millie, Tillie, and Anna, about 1899.