Noteworthy Ancestral Connections:
Archibald Floyd McIlhargey died at the Battle of the Little Big Horn, otherwise known as Custer's Last Stand. He was born in County Antrim, Ireland in 1845. Click here to read this soldier's story.
The McIlhargeys who lived in Biddulph Township, Ontario (just north of Toronto), were neighbors and possibly friends of the notorious "Black Donnelly" family that was murdered by its own neighbors in 1880. Click here to read about the Donnelly-McIlhargey connection.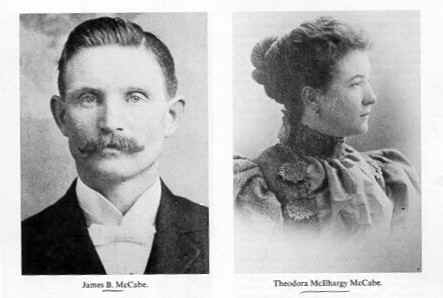 Apparently wedding photos.
James Bernard McCabe married Theodora Louise McIlhargey on January 24, 1899,
at St. Mary's Church in Lindsay, Ontario, Canada.
James was born in Lindsay in 1869. However, in 1883 his family moved to a homestead farm in Grand Forks County, North Dakota. He returned to Lindsay to marry.

He was considered "Shanty Irish", while she was "Laced Curtain Irish", which meant that she was an aristocratic city girl, not used to harsh farm life. She played piano "all the time".

They had seven girls, two of whom died in infancy.