Generation No. 2
2. Alma Christine Woken was born December 19, 1882 in Atwater MN, and died May 26, 1966 in Grand Forks ND. She married Robert B. Williams August 1911 in Grand Forks ND, son of William Williams and Catherine B.. He was born August 17, 1889 in Arvilla ND, and died February 11, 1981 in New Town, Montrail, ND. Alma is buried at West Union Cem, Loretta Twsp, Grand Forks Cty ND. Robert is buried at Arvilla Cemetery, Arvilla ND.
Child of Alma Woken and Robert Williams is:
13 i. Dudley Williams.
7. Kern Larry Woken was born December 13, 1891 in Northwood ND, and died January 1937 in Northwood ND. He married Ethel Bruhn. She was born Abt. 1890. Larry is buried at West Union Cem, Loretta Twsp, Grand Forks Cty ND.
Larry killed himself with a gun after learning he had cancer.
Child of Kern Woken and Ethel Bruhn is:
14 i. Larry Woken.
9. Camie Petora Woken was born January 05, 1896 in Northwood ND, and died May 03, 1978 in Great Falls MT. She married Edgar Erickson. He was born Abt. 1890.
Children of Camie Woken and Edgar Erickson are:
15 i. Audrey Erickson.

16 ii. Jerry Erickson.

17 iii. Jordis Erickson.
10. Peter Woken was born May 05, 1898 in Northwood ND, and died August 06, 1969 in Lancaster CA. He married Hazel Johnson March 29, 1928. She was born March 11, 1910, and died July 30, 1987.
Children of Peter Woken and Hazel Johnson are:
18 i. Harlan Woken.

19 ii. Joan Woken.

20 iii. Peter Paul Woken.
11. Olga Sikora Loretta Woken was born May 22, 1900 in Loretta, Grand Forks County, ND, and died June 11, 2000 in Northwood Deaconess Health Center, Northwood, ND. She married Charles Wesley Williams March 28, 1928 in Crookston MN, son of Owen Williams and Margaret Jones. He was born January 20, 1894 in ND, and died September 22, 1961 in Grand Forks ND. Olga is buried June 15, 2000, Arvilla Cemetery, Arvilla ND.
For more on Charles Wesley Williams, see Descendants of Williams-Jones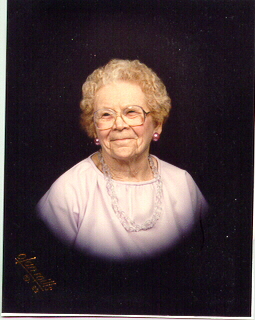 Olga could claim all of the following names: Olga, Sikora, Loretta, Paulsdatter, Eidem, Woken, and Williams.
"Grandma Williams" could speak, read, and write Norwegian. She had a great sense of humor and loved to laugh. She could play piano and harmonica by ear, and had remarkably smooth handwriting even at the age of 99. She enjoyed quilting, sewing, and knitting. She was also a very good whist player, and a terrific cook; many of our favorite family recipes are from her: raisin cookies, gully bars, homemade bread, etc. She used to cook in a small cabin for large groups of field workers when she was a young girl/woman. The cabin was deemed a Norwegian historical site and it was moved to Decorah, Iowa, an almost completely Norwegian town.
She used to teach Sunday School at the Arvilla Presbyterian Church and served as the superintendent of the Sunday School. She moved to the Deaconess Home "where all her friends are" in June 1991.
Obituary says Olga was preceded in death by 4 sisters and 8 brothers - making 13 children in all. I only have 6 brothers and the 5 girls, making 11; thus I am missing 2 boys, who probably died as infants.
Her son, Lester, spoke at her funeral: Olga was born and raised about 10 miles west of Northwood. She went to school a mile north of their farm until the schoolhouse burned down when she was in 8th grade. She spent most of her first 30 years working on the home farm, doing the cooking, housekeeping and farm chores. When she met Dad and they were married, they moved to the Crain farm, where they both worked. With some tutoring on Ma's part, Dad took a Civil Service exam and was awarded the Rural Mail Carrier's position in Arvilla. They moved to a house south of the tracks in Arvilla and lived there for 30 some years before Dad died. She lived there for 30+ more years after that. She had always been very active in this Church (Arvilla Presbyterian). A few years back the Church had a big celebration (maybe 100 years). They invited some of the former ministers and everyone showed up for a rededication service. Several older members were called on to relate of their life in the church. As Ma sat there she thought about what she might say when her turn came. But do you know, being the good strong Norwegian Lutheran that she was, she had never officially joined the Presbyterian Church. So they didn't ask her to tell her story. It is wonderful to see so many friends and relatives who have come to honor her memory. And I would like to thank you for the opportunity to tell you a few of the things that Ma might have said on that Sunday afternoon in 1984.
For the children of Olga Woken and Charles Williams, see Descendants of Williams-Jones.
12. Stacey Caroline Woken was born March 30, 1902 in Northwood, ND, and died January 12, 1987 in Robbinsdale (Minneapolis), MN 55422. She married Hjalmer Christian Jacobson July 16, 1924 in Fargo, ND, son of John Okstad and Beret Rena. He was born October 17, 1902 in Atwater, MN, and died April 23, 1993 in Robbinsdale (Minneapolis), MN.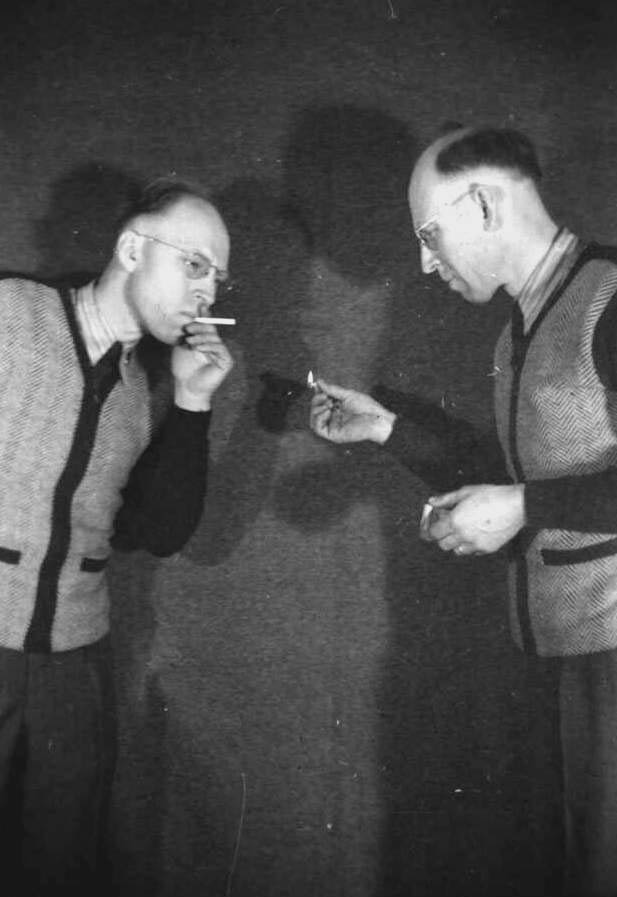 Double-exposure of Hjalmer Jacobson, from about 1950.
Stacey Caroline and Hjalmer lived in MN.
Child of Stacey Woken and Hjalmer Jacobson is:
25 i. Jack Warren Jacobson.
---
Generation No. 3
13. Dudley Williams
18. Harlan Woken
25. Jack Warren Jacobson
For the children of Olga Woken and Charles Williams, see Descendants of Williams-Jones.
---
Information on the most recent generations is omitted to protect privacy.
For more information contact Tom Williams.